Alerta Medical: Affordable Fall Prevention
Tuesday, 6 February 2018 | Eugene
Whether you're a medical professional looking to improve the quality of your patient care, or a loved one trying to improve the quality of life of a friend or family member, minimising falls and unsafe situations should be one of the primary focuses of your attention. Addressing these concerns, Alerta Medical have created their range of Alertamats, providing an industry-leading standard in patient care and attention by helping to prevent falls, wandering and unsafe situations in patients at risk.
Yet another family of cutting-edge and affordable medical equipment from Alerta, the Alertamat range emerges from Alerta's main goal to improve the quality of care of patients, while minimising the workload and stress of care providers. With products like floor, chair and bed alarm mats, Alerta produce all the equipment you need to maximise your efficiency and improve your care.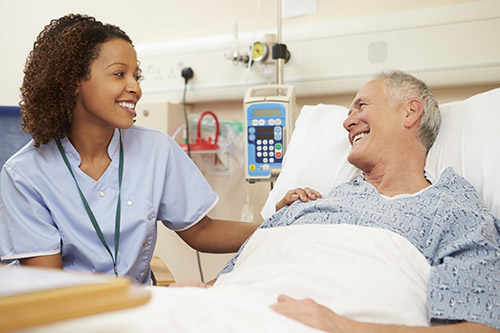 Alerta provides peace of mind to patients and carers alike
Products That Work Together
One of the main features of the Alertamat range, and a leading reason why it stands out compared to the competition, is the way all of Alerta's products can work together to provide truly outstanding patient care. With a wide range of accessories to customise your Alertamat to meet your specific needs, and a choice of six different plugs for each to work with any nurse call system, Alerta have thought of every possible dimension of patient care. Products that demonstrate this versatility include:
Fall Prevention Mats
The Alerta Deluxe and Floor Alertamat Pressure Alarm Mats can work either plugged into a nurse call system, or even into each other for added floor coverage with their additional 6-inch lead.
Intuitive Accessories
The Alerta Alarm Monitor works with the bed and chair monitors mentioned above, and provides the keystone for many of the Alertamats' uses. This alarm monitor can be battery powered for use practically anywhere in any environment, or can be combined with the Alerta Mains Adaptor for mains operation.
The Alerta Call Nurse Call Buzzer can be used in conjunction with either the Alerta Floor or Deluxe Alarm mats, or with any nurse call system thanks to its six plug choices. This call buzzer provides even more versatility to the Alertamat range, allowing the mats to be part of a truly comprehensive network of fall prevention, dementia care and patient care equipment.
Finally, another simple yet effective lynch pin in the Alertamat range is the Alerta Double Plug Adaptor. This tiny piece of the Alertamat puzzle allows multiple Alerta fall prevention products to be plugged into a single nurse call point, providing practically boundless applications for the Alertamat range. Compatible with all Alertamat Pressure Alarm Mats, the Alerta Double Plug Adaptor solidifies Alerta as the ultimate in fully versatile patient care systems, and allows you to get the most out of all your Alerta products.
Versatile, Affordable and Effective Care
After reviewing all the possibilities and compatibilities within the Alerta Alertamat range of products, it's hard to argue that they aren't the most versatile pressure alarm mats on the market. Suitable for all situations, all nurse call systems and all patients at risk, these products will no doubt improve the quality of patient care that you can provide.
Manufactured and designed with patients and care providers in mind, and motivated by industry experience, Alertamat Alarm Mats provide all the tools you need to give the best and most attentive treatment possible. Shop the Alertamat range of products today on HospitalBeds.co.uk, and improve the lives of your patients and the efficiency of your patient care team.
Have any questions about Alerta products, or something to add? Tell us in the comments below!