Tuesday, 25 September 2018 | Eugene
To help treat bed sores at home, you may assume you'll need an array of expensive equipment, but there are plenty of cushioning options to outfit your bed, favourite chair or even your wheelchair with the pressure relief you need. Bed sores, pressure ulcers or pressure sore cushions are widely available, but it's important to choose the right option for your needs. Read on to learn How to Treat Bed Sores at Home.
Tuesday, 3 July 2018 | Eugene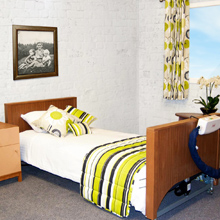 If you plan to provide care to a sick, injured or elderly loved one in your home, standard beds probably just won't cut it. There's a reason that hospitals use specialised beds for their patients, and it's that many will require help with moving in bed, as well as entering or leaving it, and will need to be specially positioned for certain care procedures. In this article, we'll go over our top tips on How to Buy a Hospital Bed for Your Home.