Profiling Bed and Mattress Bundles to Save Time and Money
Wednesday, 30 May 2018 | Eugene
Caring for a bed-bound patient or loved one can be difficult for a number of reasons, as their loss of independence can make everyday activities into challenging chores. In order to make life easier for both the patient and carer the right equipment must be used, but finding the perfect option for you can be easier said than done. At HospitalBeds.co.uk, we're here to help, and we've compiled a few solutions to take much of the hassle and cost out of the process.
Harvest Bed and Mattress Bundles to Save You Money
To ensure your patient is correctly positioned for comfort and treatment an adjustable profiling bed is crucial, and to avoid the risk of pressure sores developing choosing the correct pressure relief mattress is a must. These products can make a world of difference to quality of life and independence, but when purchased separately they can often carry prohibitively high costs. You may have heard that your patient or loved one falls into a particular pressure sore "risk category", but without in-depth knowledge, you may not know what this means or how to proceed.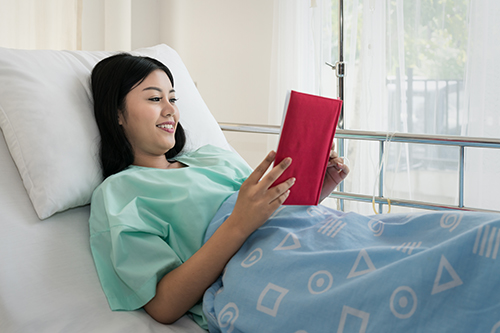 A profiling bed and mattress are needed to provide support and comfort to bed-bound patients
That's why at HospitalBeds.co.uk, we offer packages that include reliable profiling beds and high quality pressure relief mattresses together at a reduced cost, allowing you to outfit your care area with minimal hassle and expense. These packages all include delivery and installation in their cost, ensuring you can get all the help you need to provide excellent pressure care and support as soon as possible.
Saver Pack 1: Low Risk Patients
Many patients will still retain some degree of mobility in bed, and for these patients, a profiling bed and low risk mattress are all that is needed to prevent and treat minor pressure sores. Our Low Risk Saver Pack includes: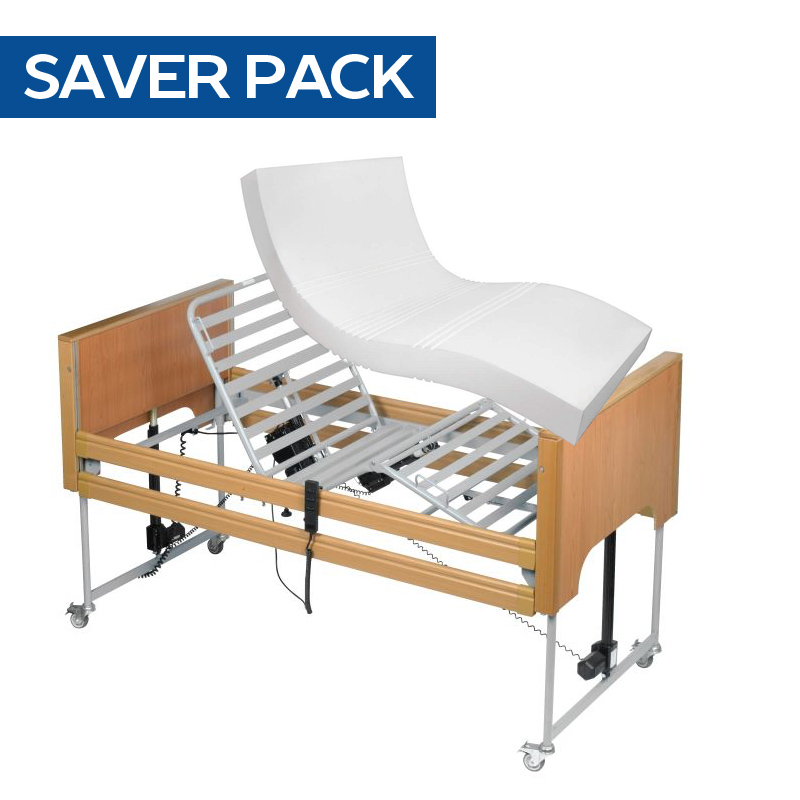 Saver Pack 2: Medium Risk Patients
For patients who are slightly less mobile, and for slightly more severe pressure sores, a more supportive and formidable mattress is needed. For these patients we have coupled the Harvest Woburn Bed with a medium risk mattress in our Medium Risk Saver Pack, including: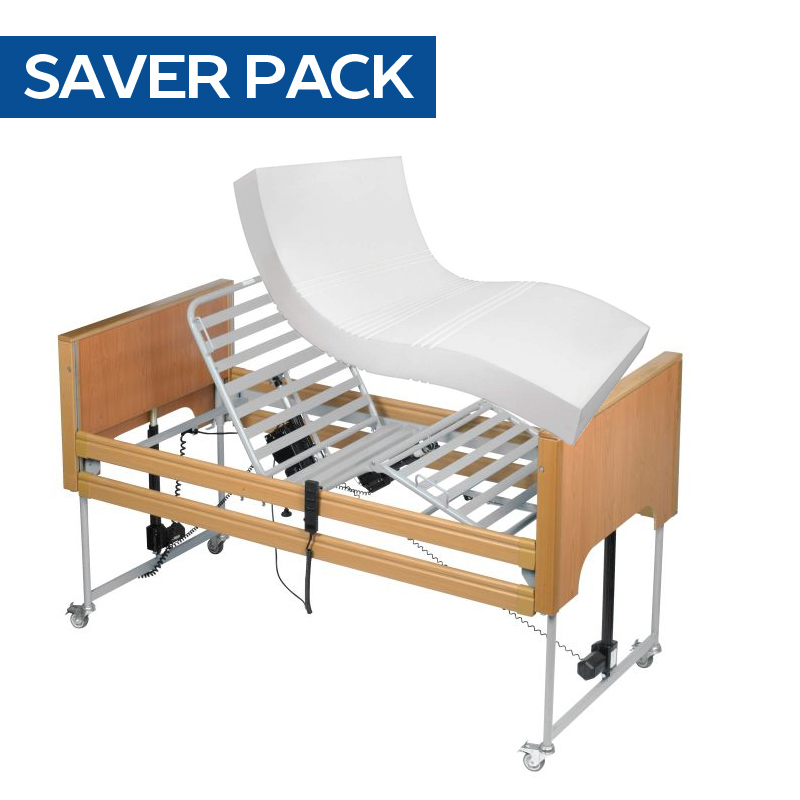 Saver Pack 3: High Risk Patients
When patients have existing pressure relief sores, or when their risk is becoming more significant, simple pressure relief measures will no longer suffice. Our High Risk Saver Pack includes a more advanced pressure relief mattress with differing foam layers for comfort and support, allowing the patient to be positioned for nursing procedures and leisure with minimal shear and friction forces. This pack includes: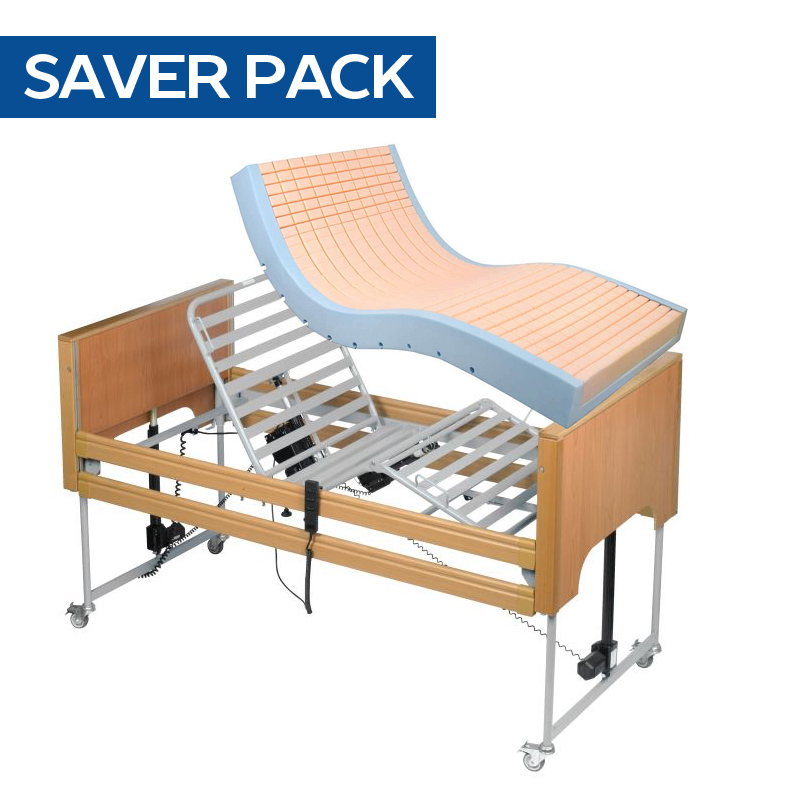 Saver Pack 4: Very High Risk Patients
At the top end of the pressure relief scale are very high risk patients, who will require the use of an alternating system that can automatically redistribute their weight without the need for movement on behalf of the patient. Our Very High Risk Saver Pack includes an alternating air mattress on top of the same high-quality bed, providing a top-of-the-line pressure relief solution at an affordable price. This pack includes: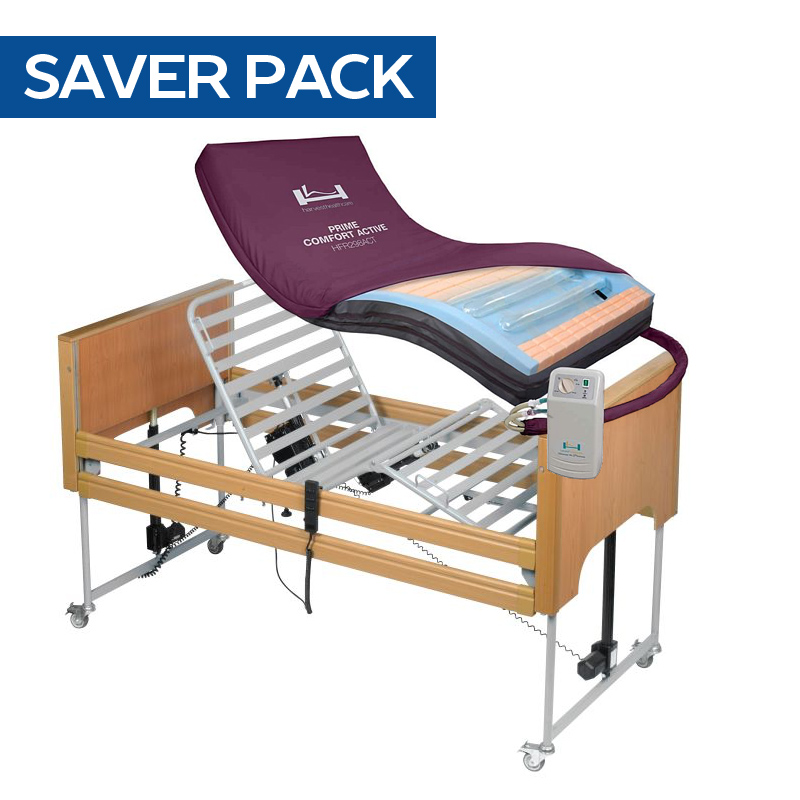 We Make It Simple to Provide the Best Care
With our Harvest bed and mattress bundles, we aim to make it as easy as possible to outfit your patient or loved one's room with reliable and comfortable equipment. Our beds and mattresses are made up to the highest standards, allowing both leisure activities and nursing procedures to be carried out with as little hassle as can be.
If you would like to select your profiling bed and mattress separately, you can browse our entire Hospital Beds category, and to see all of the pressure relief mattresses we have to offer, browse our Pressure Relief Mattresses category. If you have any questions, or would like a recommendation, contact our Customer Care Team at 020 7501 0592.